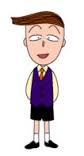 Kazuhiko Hanawa (Hanawa Kazuhiko, 花輪 和彦) is a male character and 3rd-grade elementary student in the Japanese manga and anime series 'Chibi Maruko Chan'.
He is frequently addressed as 'Hanawa-kun' by Maruko in the series.
He Really Has a Crush On Maruko That is why he always call maruko "Baby"
His Apperance is Good But His Wrintings Is Bad
he is the richest boy in the third graders
The Maker of Chibi Maruko Chan Said " if maruko is getting married she is gonna be married to hanawa kun"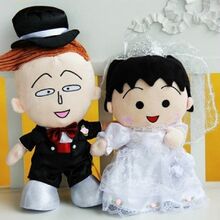 Appearance
Edit
Hanawa is famously known for his brown sideswept 'flicked' hair, in most cases sweeping to the left side. In contrast to almost every other class member, he wears the most extravagant clothes, which are always inclusive of a cream or white long-sleeve shirt with white collar, indigo waistcoat, orange-red tie, black shorts, white socks and black shoes.
In some cases, he may also wear a formal white suit with pants and tie to match. He wears a sailor outfit during summer episodes, which consist of a white shirt, blue neckerchief with white borders, blue shorts that match and white socks plus black shoes.
Personality
Edit
Hanawa carries a 'posh' air and a matching elegant speaking style as a means of conveying his somewhat lush image, although this behaviour tilts towards being portrayed as snobbish in some instances, especially when concerning something he owns which others don't (as he is raised in a very rich family, which contradicts Maruko and his classmates' own). He refers to practically all the girls (and sometimes boys) in his class through 'baby', and seems to always focus on positive aspects of a topic of conversation instead of the negative.
He expresses shock and dismay whenever he is caught in a situation which tarnishes his image or reputation, which have included stepping onto a piece of feces following a major flood, wiping up a 1st-grader's pee in a hallway, and being told that his handwriting was illegible.
Hobbies & Talents
Edit
Hanawa is very fond of his trips overseas, being the centre of attention from others (often girls) and discussing matters relative to the rich lifestyle or cultures worldwide which most of his Japanese classmates would not understand as perfectly.
He takes weekly classes for English and French, piano, violin, and Indian philosophy. His English is fluent enough to the extent where he could direct a lost foreign visitor to a bus station, to Maruko and Tamae's amazement, although he had admitted at one point that he still lacks some vocabulary for more challenging topics.
Relationships
Edit
Mother 
Father (never in show)
Classmates
Edit
Maruko (best friend) (has a crush on her) (girl friend) (wife)
Maruo
Migiwa (who has a crush on him) (nothing to him) (bitch)